Posts for: May, 2020
By Larry G Payne DDS, PC
May 18, 2020
Howie Mandel, one of America's premier television personalities, rarely takes it easy. Whether performing a standup comedy gig or shooting episodes of America's Got Talent or Deal or No Deal, Mandel gives it all he's got. And that intense drive isn't reserved only for his career pursuits–he also brings his A-game to boosting his dental health.
Mandel is up front about his various dental issues, including multiple root canal treatments and the crowns on his two damaged front teeth. But he's most jazzed about keeping his teeth clean (yep, he brushes and flosses daily) and visiting his dentist regularly for cleanings and checkups.
To say Howie Mandel is keen on taking care of his teeth and gums is an understatement. And you can be, too: Just five minutes a day could keep your smile healthy and attractive for a lifetime.
You'll be using that time—less than one percent of your 1,440 daily minutes—brushing and flossing to remove dental plaque buildup. This sticky, bacterial film is the main cause of tooth decay and gum disease. Daily hygiene drastically reduces your risk for these tooth-damaging diseases.
But just because these tasks don't take long, that's not saying it's a quick once-over for your teeth: You want to be as thorough as possible. Any leftover plaque can interact with saliva and become a calcified form known as calculus (tartar). Calculus triggers infection just as much as softer plaque—and you can't dislodge it with brushing and flossing.
When you brush, then, be sure to go over all tooth areas, including biting surfaces and the gum line. A thorough brushing should take about two minutes. And don't forget to floss! Your toothbrush can't adequately reach areas between teeth, but flossing can. If you find regular flossing too difficult, try using a floss threader. If that is still problematic, an oral irrigator is a device that loosens and flushes away plaque with a pressurized water stream.
To fully close the gate against plaque, see us at least every six months. Even with the most diligent efforts, you might still miss some plaque and calculus. We can remove those lingering deposits, as well as let you know how well you're succeeding with your daily hygiene habit.
Few people could keep up with Howie Mandel and his whirlwind career schedule, but you can certainly emulate his commitment to everyday dental care—and your teeth and gums will be the healthier for it.
If you would like more information about daily dental care, please contact us or schedule a consultation. To learn more, read the Dear Doctor magazine articles "Daily Oral Hygiene: Easy Habits for Maintaining Oral Health" and "10 Tips for Daily Oral Care at Home."
By Larry G Payne DDS, PC
May 08, 2020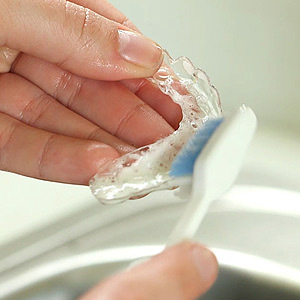 Millions of people wear some form of removable oral appliance. The range is pretty extensive, from orthodontic clear aligners and retainers to full or partial dentures. But while they may vary in purpose, they all require the same thing: regular cleaning and maintenance.
And there's a right way to care for them, and a wrong way. The right way ensures you'll get the most out of your appliance—the wrong way might drastically curtail their longevity. Here, then, are 4 things you should and shouldn't do to keep your appliance in tip top condition.
Clean it properly. Only use cleaning agents appropriate for an oral appliance's materials. That means avoiding the use of toothpaste—the abrasives in it won't harm tooth enamel, but they can scratch some appliance materials. Instead, use dish detergent, hand soap or a recommended cleaner with a little warm water. Also, use a different brush than your regular toothbrush.
Avoid hot water and bleach. Hot or boiling water and bleach kill bacteria, but they will also damage your appliance. Hot water can warp an appliance's soft plastic and alter its fit. Bleach can blanch plastic meant to mimic gum tissue, making them less attractive; even worse, it can break down appliance materials and make them less durable.
Protect your appliance. When you take out your appliance, be sure to store it high out of reach of curious pets or young children. And while cleaning dentures in particular, place a small towel in the sink—if they slip accidentally from your hand, there's less chance of damage if they fall on a soft towel rather than a hard sink basin.
Don't wear dentures 24/7. Dentures can accumulate bacterial plaque just like your teeth. This can increase your risk of an oral infection, as well as create unpleasant mouth odors. To minimize this, take your dentures out at night while you sleep. And be sure you're cleaning them daily by hand, soaking them in an appropriate solution or with an ultrasonic cleaner.
Your oral appliance helps keep your dental health and function going. Help your appliance continue to do that for the long haul by taking proper care of it.
If you would like more information on how best to maintain your oral appliance, please contact us or schedule an appointment for a consultation. You can also learn more about this topic by reading the Dear Doctor magazine article "10 Tips for Cleaning Your Oral Appliance."