Posts for tag: gum disease
By Larry G Payne DDS, PC
December 30, 2019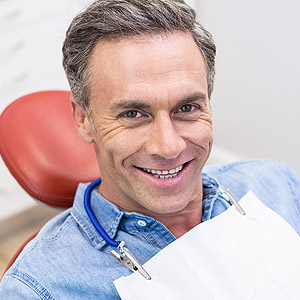 Here's the bad news about periodontal (gum) disease: It's a leading cause for tooth loss. Even worse: Half of adults over 30 will have some form of it during their lifetime.
But here's the good news: If caught early, we can often treat and stop gum disease before it can do substantial harm to your mouth. And the best news of all—you may be able to avoid a gum infection altogether by adopting a few healthy habits.
Here are 4 habits you can practice to prevent a gum infection from happening.
Practice daily brushing and flossing. Gum disease is a bacterial infection most often arising from dental plaque, a thin film of bacteria and food particles that accumulates on teeth. Removing plaque daily with brushing and flossing will reduce your chances of a gum infection. And be sure it's daily—missing just a few days is enough for gum inflammation to get started.
Get regular dental cleanings and checkups. Even the most diligent personal hygiene can miss plaque, which may then harden into a calcified form impossible to remove with brushing and flossing called calculus (tartar). At least twice-a-year professional dental cleanings will clear away any remnant plaque and tartar, which can greatly reduce your risk for dental disease.
Make gum-friendly lifestyle changes. Smoking more than doubles your chances of gum disease. Likewise, a sugar-heavy diet, which feeds disease-causing bacteria, also makes you more susceptible to infection. Quitting smoking, cutting back on alcohol consumption and following a dental-friendly diet could boost your teeth and gum health and avoid infection.
Watch for signs of infection. Although you can greatly reduce your risk of gum disease, you can't always bring that risk to zero. So, be aware of the signs of gum disease: sometimes painful, swollen, reddened or bleeding gums. If you notice any of these signs, make a dental appointment—the sooner you're diagnosed and begin treatment, the less likely gum disease will ruin your dental health.
If you would like more information on preventing gum disease, please contact us or schedule an appointment for a consultation.
By Larry G Payne DDS, PC
June 08, 2018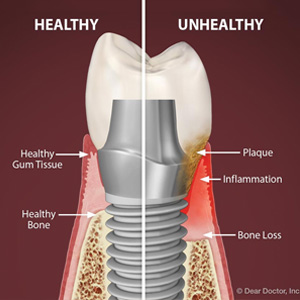 You've invested quite a bit in your new dental implants. And it truly is an investment: because of implants' potential longevity, their long-term costs could actually be lower than other restorations whose upfront costs might be less.
But to better ensure their longevity, you'll need to keep your implants and the natural tissues supporting them clean of bacterial plaque, a sticky biofilm that can cause periodontal (gum) disease. Although the implant itself is unaffected by disease, the natural tissues around it can be.  An infection could ultimately weaken the bone supporting the implant and lead to its failure.
Such an infection involving implants could advance rapidly because they don't have the natural defenses of the original teeth. Our natural teeth are connected to the jaw through the periodontal ligament, a collagen network that attaches to both the teeth and the bone through tiny tissue fibers. This connection also provides access to antibodies produced by the body to fight infection.
By contrast, we place implants directly into the jawbone. While this creates a very secure attachment, the implant won't have the same connection as teeth with the body's immune system. That means any infection that develops in surrounding tissues can spread much more rapidly—and so must be dealt with promptly.
Treating this particular form of gum disease (known as peri-implantitis) is similar to infections with natural teeth and gums, with one important difference involving the tools we use to remove plaque from them. While natural teeth can handle metal scalers and curettes, these can create microscopic scratches in the porcelain and metal surfaces of an implant and create havens for further bacterial growth. Instead, we use instruments made of plastic or resin that won't scratch, as well as ultrasonic equipment to vibrate plaque loose.
To avoid an infection, it's important that you brush your implants and surrounding tissues just like you would your natural teeth (be sure you use a soft-bristled brush). And keep up regular dental visits for thorough cleanings and checkups to stay ahead of any developing gum infection. Maintaining your dentures will help ensure they continue to brighten your smile for a long time.
If you would like more information on dental implants, please contact us or schedule an appointment for a consultation. You can also learn more about this topic by reading the Dear Doctor magazine article "Dental Implant Maintenance: Implant Teeth Must be Cleaned Differently."
By Larry G Payne DDS, PC
September 02, 2017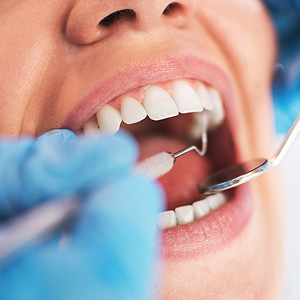 It's National Gum Care Month. Let's a moment to talk about why it's so important to take care of your gums.
Gum disease affects almost half of adults over age 30 and approximately 70 percent of adults over age 65. The first stage of gum disease is called gingivitis, an inflammation of the gums. With gingivitis, gums can be red and puffy, and bleed easily when brushing or flossing. If gingivitis is not treated, it can progress to periodontitis, where the structures supporting the teeth, including the bone, begin to break down and be lost. Advanced stages of gum disease can lead to tooth loss and general health problems.
The good news is that gum disease is treatable — and early gum disease is even reversible. So what can you do to take care of your gums?
Be diligent about your oral hygiene routine at home: Your first line of defense is your oral hygiene routine at home. Brush your teeth gently morning and night, using a soft toothbrush and fluoride toothpaste. Brushing too vigorously can harm your gums and cause them to recede. It is also important to floss every day to dislodge plaque that can build up between the teeth and around the gum line.
Come in for professional dental cleanings and exams: Schedule regular professional cleanings to remove the plaque that is hard to reach. If plaque is not removed, it can harden to form tartar (or "calculus"). Only professional cleanings with special dental tools can remove tartar. When plaque and tartar form below the gum line, your bone that supports the teeth may be at risk. We can examine your mouth above and below the gum line to detect and monitor any signs of gum disease and recommend appropriate treatments.
We are always happy to talk with you about how to maintain the health of your gums. Remember that early gum disease is very treatable, so take care of your gums, and they'll take care of you!
You can learn more about gum health in the Dear Doctor magazine article "Daily Oral Hygiene."